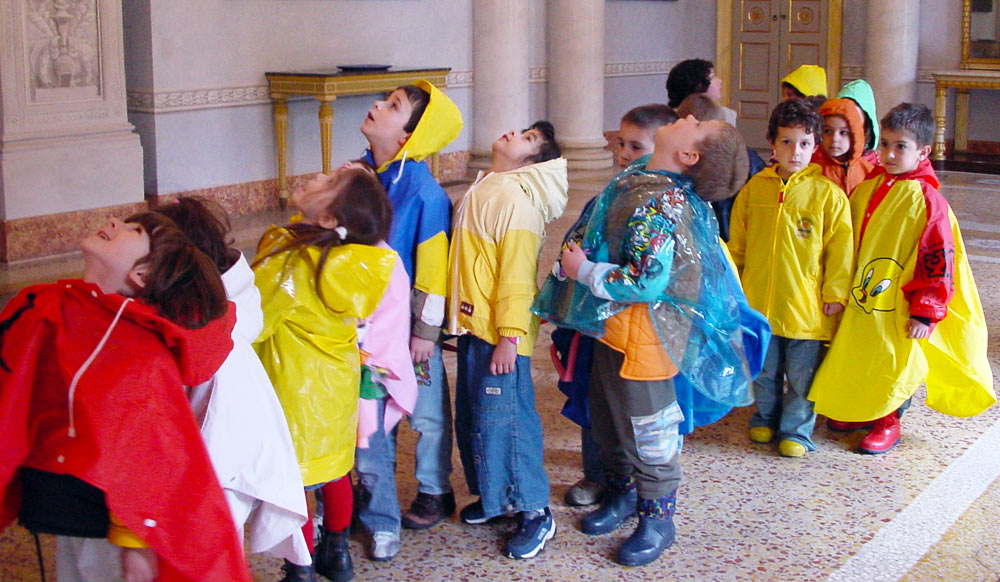 EDUCATIONAL
On the occasion of the exhibition Wim Wenders. America FAI offers new educational activities for school pupils and funny events for families.
SCHOOLS
For primary and secondary school (1st and 2nd degree): Guided visit of the Villa and of the exhibition


WIM WENDERS. America

.
A journey across American landscapes through Wim Wenders's shots.
For kindergarten and primary school: "Active" visit


WIM'S WONDERFUL WORLDS


Just like little explorers, kids will be led to the discovery of unexpected details hidden in Wim Wenders's pictures. Desolated towns and empty lands will attract children's attention thanks to the special glance given by the artist. During the lab session, kids will shape extraordinary landscapes that will come to life thanks to the light.
For secondary school (1st and 2nd degree): "Active" visit


AMERICAN SHOTS


A coast to coast reportage through Wim Wenders's pictures: a way to discover photography techniques and to understand the artist's glance on urban landscapes. During the lab session, the kids will give new colors to the artist's photos thanks to an unusual artistic technique.

ADMISSION
• € 3,00 Student
• € 2,00 Student (FAI member classes)
Teachers and people in charge: Free

EDUCATIONAL ACTIVITIES
For group of minimum 15 students
• Villa and Exhibition guided visit: € 4,00 / student
• Half-day "active" visit (Wim's Wonderful Worlds and American Shots):
€ 5,00 / student
• Full-day "active" visit (along with an activity proposed for the permanent collection): € 8,00 / student

SUNDAY LABS
BIM BUM BART… LET'S TAKE A PHOTO
A lot of events for children: an unforgettable way to discover photography and its secretes through Wim Wenders's works.
March 8th


LET'S FOCUS


After a funny "treasure hunt" to discover unusual details of Wenders's pictures, kids will shape a special optical instrument: the kaleidoscope!


February 22nd & March 29th


LIGHT AND SHADOW


Inspired by Wim Wenders's pictures, kids will shape American landscapes by using recycling materials and by using color shade technique!

ADMISSION


("active" visit & lab)
€ 10,00 / child
Compulsory reservation at:
Ph. +39 0332 283960
faibiumo@fondoambiente.it
Minimum number of participants: 15 children (5-12 years old)


HOURS
Beginning at 3 p.m.
Visit Length: about 2 hours and half



In cooperation with LaborArs
Follow us on Facebook
Instagram
#wendersavillapanza